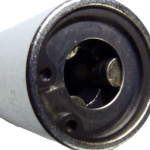 This style is a neat compromise between the big knurled disc and the reverse thread socket, The little rollers you can see in the picture clamp shut when you turn the socket. Extraction of the removed item is easier than the reverse thread sockets.
Use to...
• Remove headless shafts.
• Remove protruding snapped shafts.
• Install new studs.