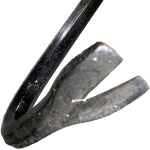 Use a Crow Bar as a Wedge or a Lever against a nearby fulcrum to cause or block movement. Also when a shaft is rusted into a tube and you need to crack the corrosion to lever it out.
Use to...
• Stop assemblies moving.
• Lever a shaft out of a tube.
Buying Tips
• Cheap ones will bend or fracture.
• Consider a set with various lengths and thicknesses.